PSA Singapore & Antwerp were voted the "Best Container Terminal"
PSA Singapore was voted the "Best Container Terminal – Asia " and PSA Antwerp, the "Best Container Terminal – Europe" at the 'AFLAS-2020' Awards held on 9th November.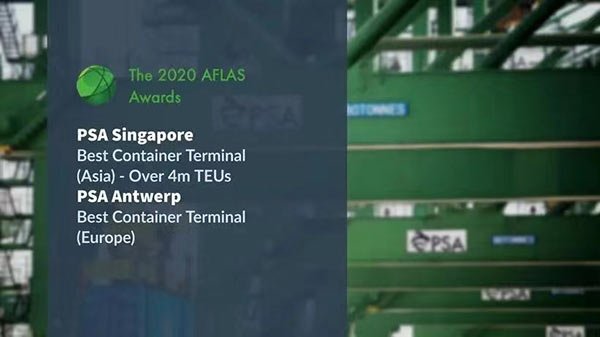 PSA Singapore has been named the "Best Container Terminal – Asia (over 4 million TEUs)" at the 2019 Asian Freight, Logistics & Supply Chain Awards (AFLAS). PSA Antwerp also won the title of "Best Container Terminal – Europe" for the 3rd time at the 2020 AFLAS. This marks the 29th time the terminal has bagged the award.
In addition to PSA Singapore's win, the Port of Singapore scored a hat trick as it garnered two more awards – "Best Seaport Asia" and "Best Green Seaport."
PSA Group CEO Tan Chong Meng said, "This accolade belongs to our staff, unions and management, who have put their whole hearts into delivering the highest standards of service excellence to our customers every day. I would also like to thank our customers and partners for their vote of confidence and for continuing to place their trust in us, as we work alongside to weather economic trade shifts and seize opportunities made possible by new technologies. PSA will continue to invest in and improve our operational and digital capabilities to co-create an Internet of Logistics, upskill our people, and innovate on new cargo flow solutions for more vibrant and visible global trade."
This year's awards ceremony was held on 17 June 2019 at the Asia Society Hong Kong Centre in Hong Kong. AFLAS is organised by maritime trade publication Asia Cargo News. The annual event recognises leading service providers – including air and shipping lines; airports and seaports; and logistics, 3PLs and other associated industry professionals – that have shown consistency and dedication to quality in terms of innovation, customer service and reliability. Winning organizations are voted by service users.